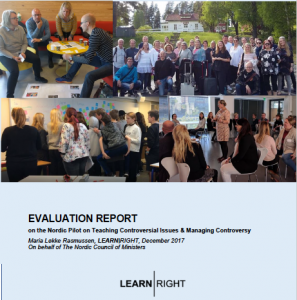 In December LEARN | RIGHT presented our evaluation of The Nordic Pilot: Teaching Controversial Issues & Managing Controversy to The Nordic Council of Ministers network on Democracy, Inclusion and Security.
In the evaluation we conclude, that the pilot project had indeed contributed to the strengthening of the test school leaders' & teachers' personal and professional skills to handle controversial issues.
Within the extremely short time frame of the project period the school leaders and teachers at the 13 test schools in the five Nordic countries had introduced more than 1100 people to how to work with controversial issues in primary and secondary schools and teacher training.
However, the evaluation also showed that the test school leaders and teachers were hesitant to explore and apply the manuals on their own, and almost only used activities they had already tried in Oslo/Utøya.
Thereto, test school leaders and teachers indicate, that they felt less strong in applying controversial issues in their teaching and managing practice and the evaluation shows, that only few at the time of the evaluation, had applied the approach with their own pupils & students and in the additional school planning and management.
Read the full report here:
Evaluation report on Nordic Pilot: Teaching Controversial Issues & Managing Controversy