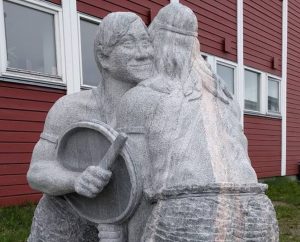 For the first time The Criminal Defenders Education in Greenland has a curriculum to guide the education of new criminal defenders as well as the continuing training of the existing criminal defenders. The criminal defenders in Greenland does not have an education in law, but since the adaptation of the new procedural law in 2010, the criminal defenders have been required to participate in courses designed especially for them. Until now, however, without the support of a curriculum.
"The curriculum ensures a clear structure for the education and transparency between the theoretical and practical elements of the education", states Maria Løkke Rasmussen, the director of LEARN | RIGHT, who has developed the curriculum in cooperation with the National Criminal Defender of Greenland, "and the use of learning objectives as well as the use of active learning methods will be the focal points of the education."
The curriculum comes in the wake of the Ministry of Justice's statutory instrument on the criminal defenders education in 2016 and the appointment of the first National Criminal Defender in Greenland in April 2017. It has been a long process.
"It has been especially exciting for me to get the opportunity to be a part of the development of the curriculum", says Maria Løkke Rasmussen, and continues; "I have assisted with the development of the Criminal Defenders Education in 2007, where I was stationed in The High Court of Greenland, and held the first courses. It is wonderful, that we can now take a step further."
LEARN | RIGHT is currently cooperating with The National Criminal Defender in the development of detailed course descriptions for the four modules of the education. We will also facilitate the courses when they are held, which is expected to be in late 2018 and early 2019.
Read the full curriculum here (Danish only):
Curriculum for The Criminal Defenders Education