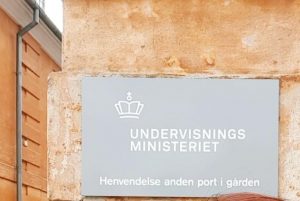 A hectic week columnated yesterday, when LEARN | RIGHT presented the results and recommendations from our evolution of the Nordic pilot programme 'Teaching controversial issues' at the Ministry of Education's development days.
We conducted the evaluation last year on behalf of the Nordic Council of Ministers, and the Danish Ministry of Education participated in the project and has integrated the method in their democracy and civic education driven by the Board of Education and Quality.
Maria Løkke Rasmussen, director of LEARN | RIGHT says about the presentation, that it was a good opportunity to present the recommendations from the evaluation and especially a great opportunity to highlight that one should view teaching controversial issues as a part of a broader human rights and democracy education.
"It is not that mysterious to teach controversial issues. It builds on the principles of teaching methods and learning environment, that we already know from teaching human rights and democracy, says Maria and adds "we have to remember, that we already have the framework and guidelines from among others the international instruments and especially from the Un Declaration and the European Council Charter. We can also find lots of well-tested teaching materials and planning tools, from which we can find inspiration to our teaching controversial issues".