LEARN | RIGHT conducted the evaluation of the Nordic Pilot: 'Teaching Controversial Issues & Managing Controversy' on behalf of the Nordic Council of Ministers. Our evaluation report contributed with:

· Results regarding the learning outcomes of the Nordic Pilot among the participants and their use of the manuals in their daily work
· Documentation of the spreading of the manuals
· Recommendations on future work with the manuals

Read the full evaluation report her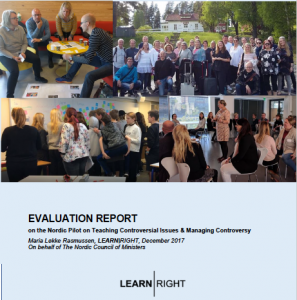 In 2017
LEARN |
RIGHT conducted an evaluation of the Nordic Pilot on Teaching Controversial Issues & Managing Controversy on behalf of the Nordic Council of Ministers.
Our main task was to evaluate whether the two manuals, on which the pilot programme was built, contributed to strengthening the personal and professional abilities among the participating school leaders and teachers in regard to handling controversial issues and thereby their ability to create safe learning spaces and school environments.
We send out a survey to clarify the participants learning needs and collect background information before the three-day workshop in Utøya. LEARN | RIGHT was present in the workshop days to observe and interview the participants. After the workshop we sent out another survey, with the purpose of uncovering what the participants learned during the workshop.
Finally, we compiled information on the participants implementation of activities from the manuals into their own practice as well as their reflections on the applicability of the manuals.
The results from the evaluation was gathered in a written report, which was presented in a meeting with the DIS-network in Copenhagen in December 2017 by
LEARN |
RIGHT director Maria Løkke Ramussen.
In the evaluation report LEARN | RIGHT contributed with a summary of the participants learning outcomes from the Nordic Pilot, documentation of which activities the participants had tested in their schools as well as how many people had been introduced to the manuals by the participants. Furthermore. the evaluation report contained a series of recommendations on the future work with the manuals
About the Nordic Pilot: 'Teaching controversial Issues & Managing Controversy'

In 2017 The European Wergeland Centre lead a pilot programme for school leaders and teachers based on the manuals 'Teaching Controversial Issues' and 'Managing Controversy' from the Nordic Council of Ministers. The pilot was a part of the Nordic Council of Ministers' programme 'Democracy, Inclusion and Security.
The purpose of the pilot was to help school leaders and teachers to acknowledge the value of engaging young people in a democratic dialog about controversial issues as well as strengthening the confidence and competences among school leaders and teachers in regard to creating a democratic dialog about controversial issues as a part of their everyday work in the schools.

School leaders and teachers from Denmark, Finland, Iceland, Norway and Sweden participated in May 2017 in a three-day workshop in Utøya and subsequently tested the manual activities at their respective schools. The Nordic Pilot as finalized with an evaluation forum in Copenhagen. The experiences from the pilot programme was collected in LEARN | RIGHT's evaluation report.