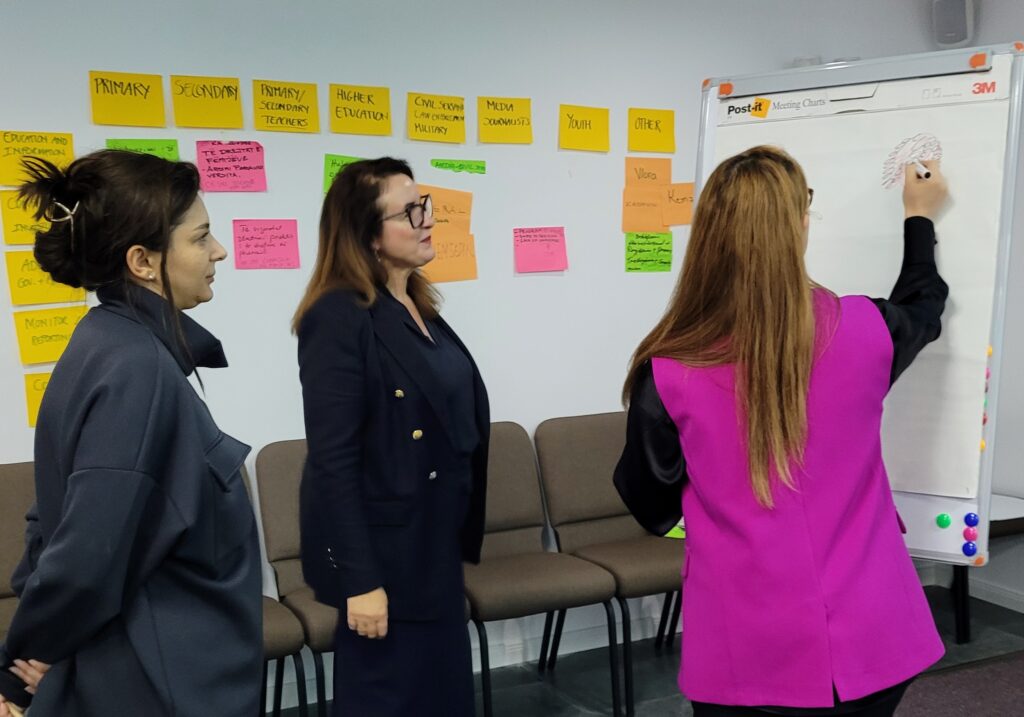 Workshop on Human Rights Education
LEARN│RIGHT assisted the Prime Minister's Office in Kosovo in developing and implementing a human rights training workshop for the Ombudsperson Institution in Kosovo (OIK). The workshop was held in 3 days in Pristina, Kosovo with the participation of managers and employees from the head office as well as representatives from the regional offices.
The overall objective of the workshop was to strengthen OIKs capacity as a National Human Rights Institution (NHRI) to plan and implement human rights education (HRE) across their core mandate.
The learning objectives of the workshop were:
To strengthen participants' knowledge on the right to HRE, the international HRE obligations & policies and the special responsibilities and role of NHRIs.
To strengthen participants' capacity to plan and implement effective HRE activities.
To strengthen the participants' recognition of the values and attitudes that support HRE.
The learning objectives were met through our own and others' international best practice examples of NHRI HRE activities within NHRI's core mandate, as well as through the participants trying specific planning and learning tools. During the workshop, the participants in groups developed an HRE action plan in different areas, which they presented to each other on the last day of the workshop. Throughout the workshop good HRE teaching techniques were applied in practice, for the inspiration of the participants.
Maria Løkke Rasmussen, who taught at and facilitated the workshop, has worked with HRE in an NHRI context for more than 20 years, both teaching and developing several teaching manuals, including The Human Rights Education Toolbox – a practitioner's guide to planning and managing human rights education.
In 2014, when Maria was Senior Education Advisor at the Danish Institute for Human Rights, she was the initiator of the Copenhagen Human Rights Education Symposium which gathered NHRIs in an HRE network, with the aim of exchanging best practices and ensuring a systematic and strategic approach to the area. Based on the symposium, Maria wrote about the Symposium Recommendation Report on how NHRIs can be strengthened in the HRE area, as well as an outline, a guideline for strategic HRE planning with facilitation activities. The network has continued its work after Maria stopped at the institute, and in 2017 they published the NHRI manual Guide to a Strategic Approach to Human Rights Education based on the Symposium Recommendation Report and later in 2021 came the Guide on Human Rights Education Curriculum Development.
The participants at the workshop in Kosovo highly appreciated the process, which they found both educational and inspiring. While some participants were glad to be assisted in developing a plan to move forward with their HRE work, others appreciated the many exercises, methods, and materials they were introduced to, which they can use directly in their own training programmes.
The workshop can be usefully repeated for NHRIs in other countries, and the participants in Kosovo have already recommended the course to their colleagues in neighboring countries.