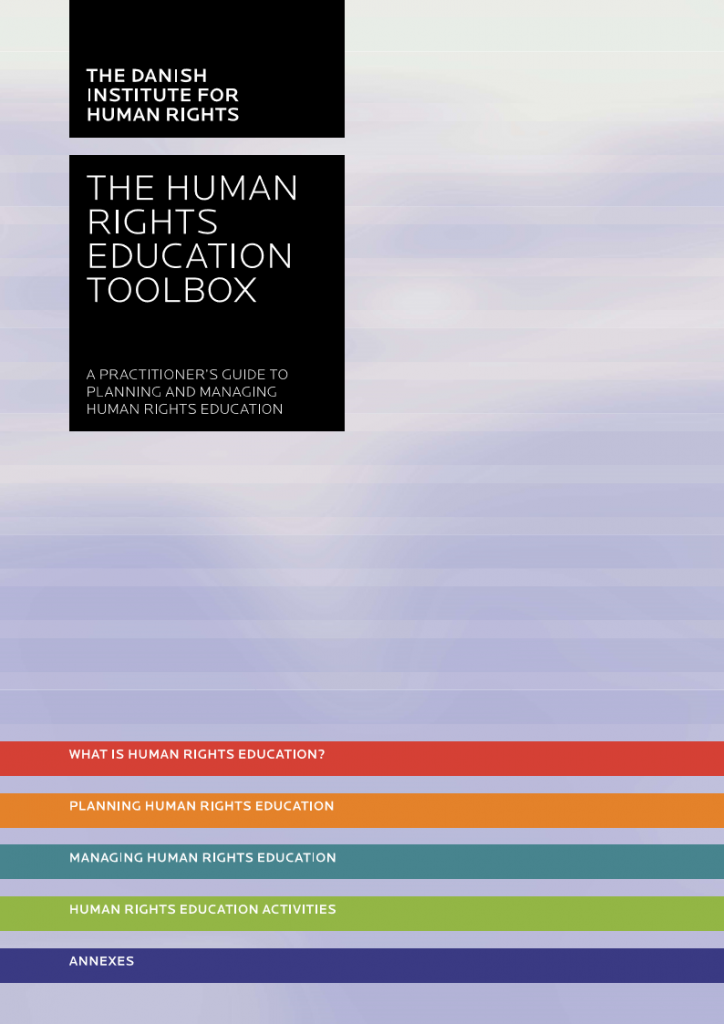 The Human Rights Education Toolbox – A practitioners guide to planning and managing human rights education is designed to aid educators, human rights and development practitioners working to promote human rights through education.
The toolbox provides concrete tools to practitioners on planning, implementing and evaluating human rights education.The toolbox is relevant to both project and course managers, and to assistants as well as facilitators and presenters.
It is currently available in English, Spanish, Arabic, French, Russian, Belarusian and Burmese, and can be downloaded below.
The material was developed for the Danish Institute for Human Rights, 2013, Maria Løkke Rasmussen, ISBN: 978-87-91836-60-2
The English version (2013) was originally developed for The Danish Institute for Human Rights (DIHR) staff and partners. DIHR uses it for courses and capacity building of partners in e.g. Afghanistan, Albania, China and Nepal. The manual is also used by a high number of other actors, including Danish civil society, MS-Action Aid on their Global Platform and actors in Ethiopia, Iceland, South Sudan, Vietnam, Zambia and Zimbabwe. The toolbox has also been presented at a number of European HRE conferences and many libraries have required copies.

The Spanish version (2013) was developed on the request of the Danish Ministry of Culture as part of a Danish cultural visit to Chile. The material was launched at a conference for human rights educators in Santiago, Chile with the presence of the Danish Minister of Foreign Affairs, Villy Søvndal and the Danish Crown Princess Mary.

The Arabic version (2014) is used by DIHR for training and capacity-building in the Middle East and North Africa, including Libya, Tunisia and Yemen. The toolbox has furthermore been used by the UN High Commissioner for Human Rights (OHCHR) in training professional groups. The Euro-Mediterranean Human Rights Network (EMHRN) has trained and will train youth. The Arab Institute for Human Rights (AIHR) disseminates and uses it for training of human rights educators.

The French version (2016) is used by DIHR to train partners in west Africa and Tunisia. They have found it is a useful tool to guide their planning of HRE activities as well as inspire their courses with useful, practical exercises which target all learning dimensions of knowledge, competence and attitudes towards human rights.

The Russian version and Belarusian version (2017) were developed in cooperation with DIHRs Belarusian partners to organisations working in the Eurasia region. All examples and exercises are adopted to the Belarusian context, but can be revised by the user and adopted further to fit the realities of the country at hand.

The Burmese version (2020) was developed by DIHR as part of the 'Denmark-Myanmar Programme on Rule of Law and Human Rights' supported by the Embassy of Denmark in Myanmar in joint venture with the International Commission of Jurists (ICJ). One of the programmes key objectives was to establish human rights education within the two law departments at Dagon and East Yangon universities. The manual assisted in the successful introduction of human rights education principles into legal education as well as new teaching methodologies fostering critical thinking.